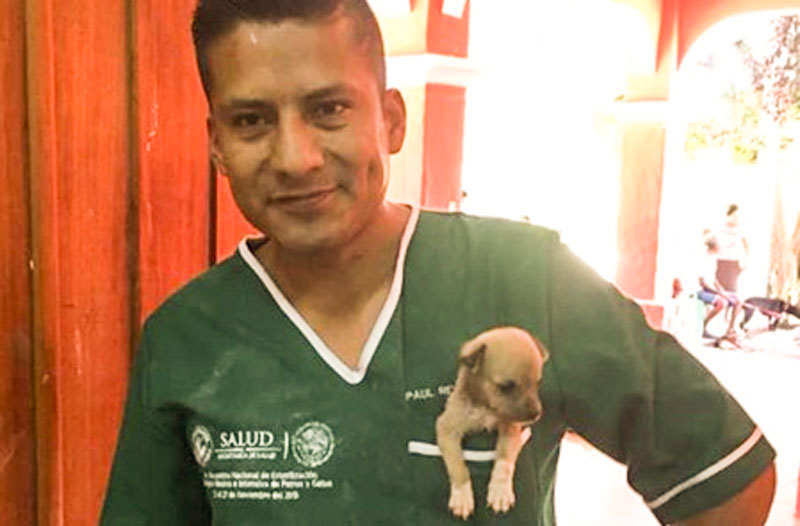 Another two successful clinics took place in November 2016. The first clinic in the small town of La Cienega, where 74 sterilization surgeries were preformed in one day. The second clinic in the town of Cuatunalco 124 sterilization surgeries were done in 1.5 days. Grand total 198!!!
The Snipsister Team was so impressed by the town's enthusiastic involvement! I am so grateful for the help received; from the children who carried in equipment & supplies for pre-clinic set up, to the hardworking men & women of La Cienega & Cuatunalco who helped clean up the Municipal Building in each town and who set up the shade tarps. My fabulous pre & post clinic set up & tear down team: Larry, Bryn, Gary, Nancy, Maria & Viktor, Lilianna, Fidelina, Mario, Chico.
While I always have enjoyed working with Poly, Antonio & Leslie, the Pets 4 Life Vet Team from Puerto Vallarta, I felt I needed to find another exceptional team that was within closer proximity to Huatulco. In an effort to be as frugal as possible, without compromising the safety of the pets that are entrusted into our care, and the quality of each surgery, I tried a team from Oaxaca City that came highly recommended. I was nervous, but this change was not to be feared! Being able to find a team that is geographically closer, with the same incredible competency as Pets 4 Life, has freed up more funding to put towards additional clinics-rather than those funds going to airfares to/from Puerto Vallarta.
I am incredibly grateful to Paul & Ulises the vets from Oaxaca City, along with my fantastic group of volunteers: Sheila Tomlinson, Nancy Norris, Jane Carstairs, Sonia Maldonado, Fran McLaren, Bryn Wendelborg, Gary Campbell, Shelley McCaffery, Trish Loeb, Joanne MacDonald and Chyanne Forester.
My gratitude and appreciation goes out to Jesus Flores, who was instrumental in initiating communication with the mayors of each town, spreading the word about the clinic and taking time on his days off to bag over 200- 1kg bags of dog food.
And a very special thank you to the exceptional Tech Team: Tintin and Valentina from Terre Xtra based in Zipolite, who donate their time each year to my clinics, but who also host their own clinics throughout the year in Zipolite, they help 1000's upon 1000's of dogs.
Amazing wonderful people, all of you!